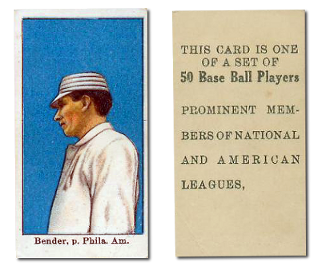 The 1909 E101 baseball card set consists of 50 cards that measure 1½" by 2¾". The E101 cards were included with caramel candies but it is unknown who manufactured the set.  Seeing strong similarities between this set and the E92 Dockman & Sons set, collector's have wondered whether they were produced by the same company.
The E101 baseball cards have the phrase "This card is one of a set of 50 Base Ball Players, Prominent Members of National and American Leagues".

Hall-of-Famers included in this set are the: E101 Honus Wagner, Chief Bender, Frank Chance, Ty Cobb, Eddie Collins, Sam Crawford, Johnny Evers, Nap Lajoie, Christy Mathewson, John McGraw, Joe Tinker and Cy Young.
By Dean Hanley
CLICK HERE if you want to sell your 1909 E101 Baseball Cards.
Wearing a White Cap HALL-OF-FAME VARIATION
Qty