1982 Topps Football Complete Set 7 - NM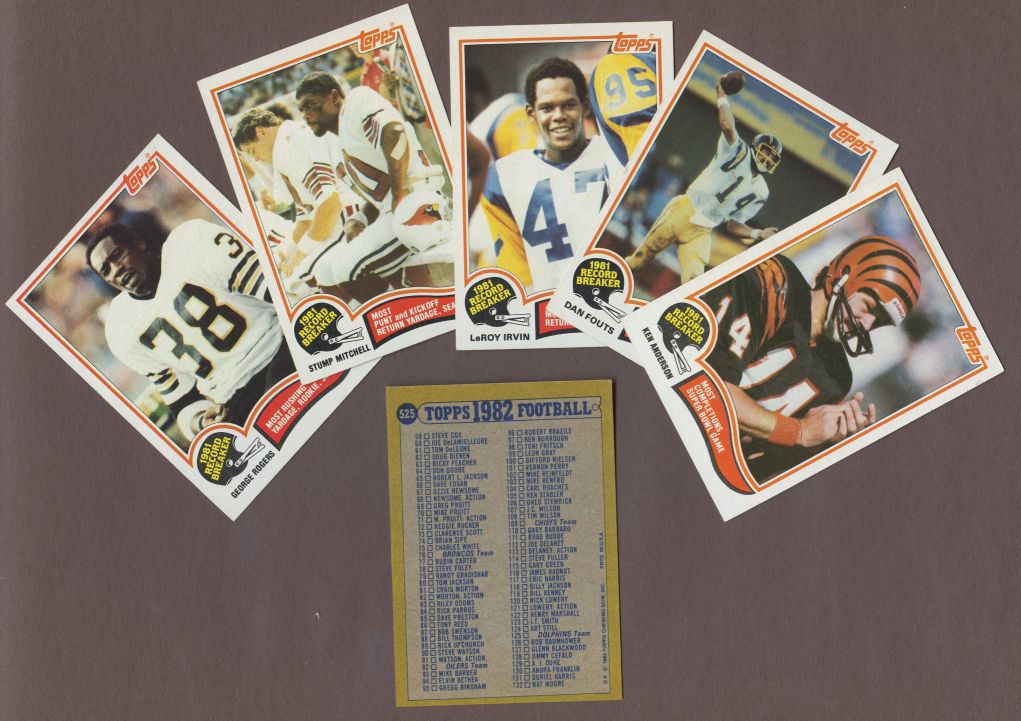 The 1982 Topps Football Card Set contains 528 cards, recognizable by their color banners. This was the first Topps football card set licensed by the NFL, so the cards featured team logos. Cards 1-6 feature Record Breakers, 7-9 Playoffs, 257-262 League Leaders and 263-270 Brothers.  
The 1982 Topps Football Card Set features the rookie cards of future Hall-of-Famers: #488 Joe Montana, #434 Lawrence Taylor, #51 Anthony Munoz and #486 Ronnie Lott.
The 1982 Topps Football Card Set features Hall-of-Famers such as: Jan Stenerud, Bud Grant, Ron Yary, Art Shell, Elvin Bethea, Charlie Joiner, Ted Hendricks, Roger Wherli, Mel Blount, Terry Bradshaw, John Riggins, Jack Ham, Jack Youngblood, Dan Dierdorf, Franco Harris, John Hannah, Dan Fouts, Joe DeLamielleure, Dave Casper, Lynn Swan, Jack Lambert, John Stallworth, Mike Webster, Mike Webster, Fred Dean, Randy White, Walter Payton, Mike Haynes, Lee Roy Selmon, Harry Carson, Steve Largent, Jackie Slater, Tony Dorsett, Marv Levy, Warren Moon, Earl Campbell, James Lofton, Ozzie Newsome, Kellen Winslow, Bill Walsh, Joe Montana, Dan Hampton, Anthony Munoz, Ronnie Lott, Howie Long, Lawrence Taylor, Art Monk, Mike Munchak and Andre Tippett.
Price
$160.00
$144.00 after 10% discount