1911 Imperial Tobacco Reprint Imperial Tobacco Hockey Series Reprint Complete Set 8 - NM/MT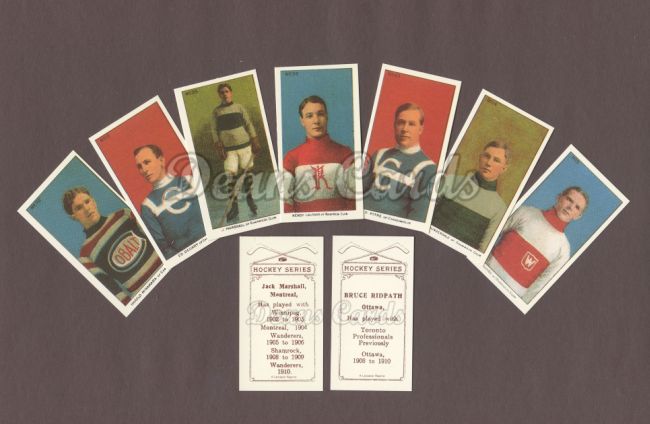 Representative Image
The 1911 Hockey Series cards were originally issued in Canada by the Imperial Tobacco Co of Canada Ltd. This reprint set was produced by Lancaster Reprints of Canada in 1987.
The front of each card shows the name and team, card number and a colorful portrait of the player, while the back of each card has the name, set name, and a list of the athlete's team history.

The cards were originally given as free premiums and were inserted into packages of 10 Imperial Tobacco Co. cigarettes. The size of each card is approx.1.5" x 2.75" inches.

Featured players in this set include: Frank Patrick, Percy Lesueur, Gordon Roberts, Art Ross, Harry Hyland, Cyclone Taylor, Tom Dunderdale, Lester Patrick, Paddy Moran, and Newsy Lalonde.

The original set would sell for over $10,000 if you could ever find one