Dean Featured on Fox Sports Ohio Broadcast Special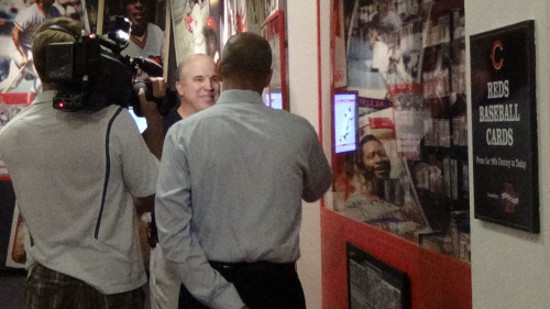 Dean Hanley, founder and owner of Dean's Cards, was recently featured on a special Fox Sports Ohio segment, discussing the Dean's Cards sponsorship of the Reds Hall of Fame. Dean was interviewed by Brian Giesenschlag, a Fox Sports reporter.
As part of our sponsorship of the Cincinnati Reds Hall of Fame, Dean's Cards is proud to provide an exhibit of vintage baseball cards honoring the rich tradition of the Cincinnati Reds and the Reds Hall of Fame. The exhibit covers more than 100 years of Cincinnati Reds history, told through baseball cards from the Dean's Cards vintage card inventory.
Vintage baseball cards and reprints from DeansCards.com also are being sold in the Fan Zone at all Cincinnati Reds game at Great American Ballpark during the 2013 season -- and all sales benefit the Reds Hall of Fame.