How to Sell Your Old Baseball Cards: Getting Started


Information on How to Sell Baseball Cards from the guy that Buys & Sells tens of thousands of vintage baseball cards every year - Dean Hanley, Owner of Dean's Cards.
Just about every day we are asked to offer advice on selling baseball cards. Whether you are selling your boyhood collection or liquidating the collection of a family member, selling baseball cards or other card collections can be a difficult task. Hopefully this article will help "part the fog" on the options open to you when selling a vintage baseball card collection – and, most importantly, how to get the most money possible when you are ready to sell your baseball card collection.
Hopefully the information provided here will save you considerable time and effort, and also help you get the best possible price for your vintage baseball card collection. Since what Dean's Cards pays for baseball card collections is, quite simply, more money than you will get elsewhere, it is in both our interests for me to give you as many facts as possible to help you make the best possible decision.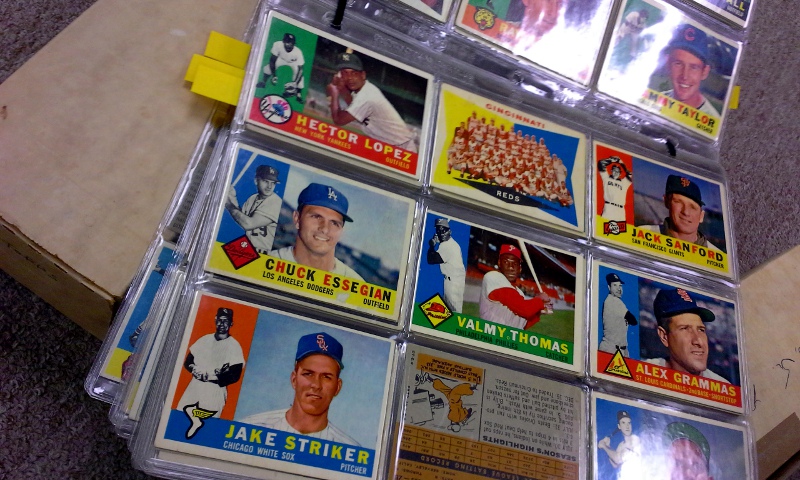 The Dean's Cards Buying Team strives to make selling your collection an extremely fast, easy and hassle-free experience.
Dean's Cards is, by far, the #1 online seller of vintage sports cards.  It is funny to me that so many baseball card dealers claim to be #1.  In truth, we have not found
 no other online store that has one-quarter of the vintage cards that Dean's Cards has posted online.  Even then, most of them do not even have scans! 
In some cases, our online selection for a single year, 1969 Topps for example, is larger than the total online inventory for many of these self-proclaimed #1 dealers.
While there is no shortage of dealers who will buy vintage collections, Dean's Cards can almost always pay a higher amount of money than most traditional card dealers. How is that possible? What we buy goes directly into our own online inventory of more than 1 million cards. 
The Dean's Cards Buying Team strives to make selling your collection an extremely fast, easy and hassle-free experience.  All correspondence is handled by either Dean and our experienced purchasing team. Turn around time on inquiries is within one business day.  Bids usually take one to two business days.  We also have developed a bid software program, in order to provide the most accurate estimate of collection's value.
The first step is for us to get an idea of what sports cards you have to sell.  If they are something we can buy, we then ask you to send the cards to us so we can review them and assess their value. We make our top offer on the first bid.  There are no games and no "low-ball" offers. If you accept our offer, we will mail you a check. If the amount we offer for your cards falls below your expectations and you decide to reject our offer, we will return the collection to you.  It's that simple.
That said, almost everyone that sends us their baseball cards decides to accept our offer.  Less than 5% of the collections sent to us are returned.  It is not unusual for us to hear that the amount that we bid on a collection is 50%, or even double the amount of the other bids that the seller has received.  My sincere hope is that we will be writing you a large check. This means you have some nice cards for our inventory, and we both make more money.  A win/win situation for both parties!  
Reasons to Sell Your Vintage Baseball Cards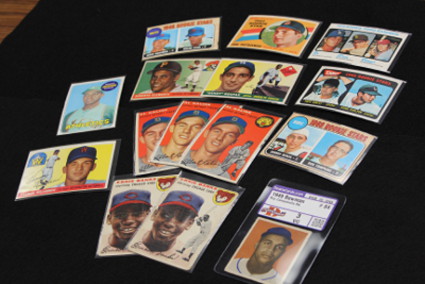 You should always remember that the bottom line is that they are your baseball cards and you certainly do not have to sell them – especially if you are emotionally attached to them. Many collectors never do sell the cards, until there is a special event which encourages them to do so for the money. Typical examples include: weddings, helping send a kid to college or paying off a big bill. 
If you have not looked at your cards in years, it may make sense to do something useful with the proceeds that you could get for them. It is often the family member that inherits the collection that ends up selling the cards. If you come to the point where you feel that the value of the collection could be put to better use,
please contact us
. You have my word that you will be treated fairly and honestly and that we will pay top dollar for your collection.
If you are not to that point of where you can emotionally part with your boyhood memories yet, and are still emotionally attached to your collection, then my advice is do not sell it.  Many collectors keep the cards until they die and then let their heirs worry about what to do with the collection after they are gone.  I certainly understand a man's attachment to a boyhood sports card collection.
Written by Dean Hanley - Owner of Dean's Cards
Dean's Cards Back-of-the-Baseball-Card Facts:
Dean's Cards sells more vintage cards online than any other dealer.
If we don't buy cards, we can't sell cards – and that's why we strive to offer you the best, no hassle price upfront.
Vintage baseball cards, which were issued before 1969, typically have the greatest value. These cards are condition sensitive – meaning cards in pristine condition are worth many times the value of the cards in poor condition.
Semi-vintage cards – from the 1970s – have more of a modest value and need to be in excellent condition to get the best price.
Modern baseball cards – are cards issued after 1980 – are beautiful cards and fun to collect, but they were made in such great quantities that the value is very low.  Dealers do not buy these cards.
Vintage cards peaked in value in the early 1990s, declined about 25% or so, and have been holding steady ever since.
Ready to sell your baseball cards? Visit us at Dean's Cards to start the process. We promise a prompt reply -- and our best offer.
Most of the baseball cards that we purchase are from before 1970.*
* We do buy cards from the 1970s when they are part of a large vintage collection.
* We do not buy cards newer than 1980.  So sorry.