Selling Your Baseball Cards to Dean


Information on How to Sell Baseball Cards from the guy that Buys & Sells tens of thousands of vintage baseball cards every year - Dean Hanley, Owner of Dean's Cards.
It is truly in the best interest of Dean's Cards to pay the best possible price for sports card collections. Many of the people that we buy cards from were either 
referred to us or are repeat sellers
. Many were customers. Some people take years to fully liquidate their collections. They sell us a few sets every several months or so.
I have often been told by people who have received bids from numerous dealers that our offer was the highest. Quite simply, we can usually pay a little more because we market directly to the customer and sell a high volume of cards. 
We do not have our mailing address listed on the website, as we always try to gauge the seller's expectations and get an idea of what they are wishing to sell before asking them to send the collection. Please contact us through the "Sell Your Cards" form (below) first, and then we will be glad to provide the mailing address. The last thing I want to do is to waste anyone's time or postage.
The bottom line is that Dean's sells thousands of cards every week. This means WE ALWAYS NEED CARDS and pay "top dollar" for collections.
 From the 
customer feedback that we receive
, we pay more for cards than other dealers. We would appreciate the opportunity to bid on your collection.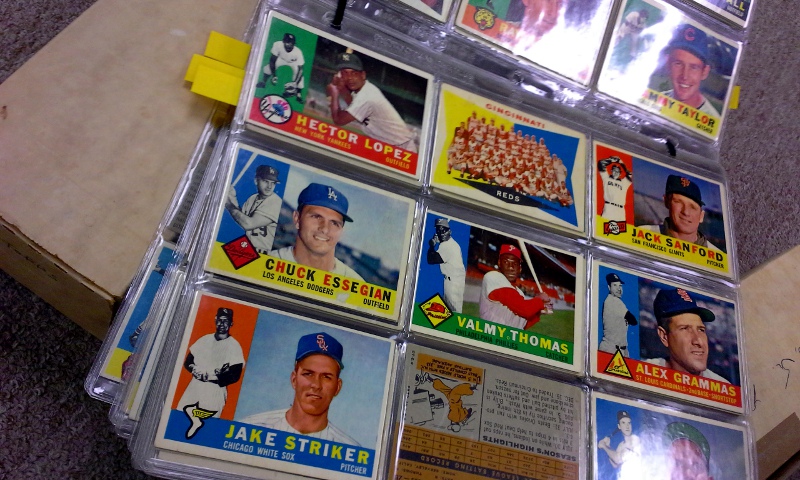 The Dean's Cards Buying Team strives to make selling your collection an extremely fast, easy and hassle-free experience.
Dean's Cards is, by far, the #1 online seller of vintage sports cards.  It is funny to me that so many baseball card dealers claim to be #1.  In truth, we have found no
other online store that has one-quarter of the vintage cards that Dean's Cards has posted online.  Even then, most of them do not even have scans! 
In some cases, our online selection for a single year, 1969 Topps for example, is larger than the total online inventory for many of these self-proclaimed #1 dealers.
While there is no shortage of dealers who will buy vintage collections, Dean's Cards can almost always pay a higher amount of money than most traditional card dealers. How is that possible? What we buy goes directly into our own online inventory of more than 1 million cards. 
The Dean's Cards Buying Team strives to make selling your collection an extremely fast, easy and hassle-free experience.  All correspondence is handled by either Dean and our experienced purchasing team. Turn around time on inquiries is within one business day.  Bids usually take one to two business days.  We also have developed a bid software program, in order to provide the most accurate estimate of the collection's value.
The first step is for us to get an idea of what sports cards you have to sell.  If they are something we can buy, we then ask you to send the cards to us so we can review them and assess their value. We make our top offer on the first bid.  There are no games and no "low-ball" offers. If you accept our offer, we will mail you a check. If the amount we offer for your cards falls below your expectations and you decide to reject our offer, we will return the collection to you.  It's that simple.
That said, almost everyone that sends us their baseball cards decides to accept our offer.  Less than 5% of the collections sent to us are returned.  It is not unusual for us to hear that the amount that we bid on a collection is 50%, or even double the amount of the other bids that the seller has received.  My sincere hope is that we will be writing you a large check. This means you have some nice cards for our inventory, and we both make more money.  A win/win situation for both parties!  
Reasons to Sell Your Vintage Baseball Cards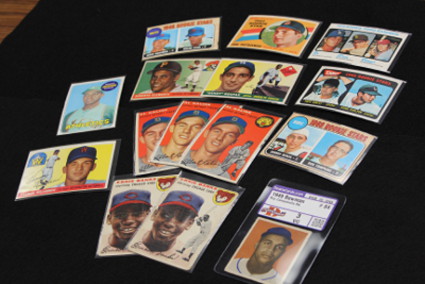 You should always remember that the bottom line is that they are your baseball cards and you certainly do not have to sell them – especially if you are emotionally attached to them. Many collectors never do sell the cards, until there is a special event which encourages them to do so for the money. Typical examples include: weddings, helping send a kid to college or paying off a big bill. 


Most of the baseball cards that we purchase are from before 1970.*
* We do buy cards from the 1970s when they are part of a large vintage collection.
* We do not buy cards newer than 1980.  So sorry.