1911 E94 Close Candy Baseball Cards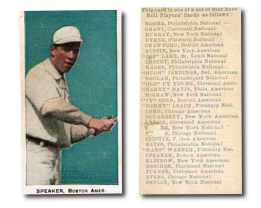 The 1911 Close Candy E94 baseball card set consists of 30 cards that measure 1½" by 2¾" . The E94 cards can have either a checklist on the back or a checklist with one of many different overprints that advertise George Close Candy Company products. These overprints include: Blome's Chocolates, A Base Hit!, Oh You Fan!, Your Safe!, Your Out!, Home Run!, Three Strikes, Pennant Winners, Oppie Dildock, among others.
The most common background colors for the Close Candy cards are green and olive.

Some of the key hall-of-famers included in this issue are the: E94 Honus Wagner, Frank Chance, Ty Cobb, Sam Crawford, Johnny Evers, Nap Lajoie, John McGraw, Tris Speaker and Cy Young.
By Dean Hanley
CLICK HERE if you want to sell your 1911 E94 Close Candy Baseball Cards.
Blome's is Overprinted
Qty