1911 E100 Bishop & Co. PCL Baseball Cards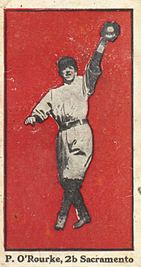 The first of two obscure sets produced by the Los Angeles candy company Bishop & Co., this 30 card set was issued in 1911 and shows players from the Pacific Coast League (PCL), showing five players from each of the six teams. The cards measure 1 1/2" x 2 3/4" and feature black and white photos with colored backgrounds.
By Dean Hanley
Click here if you want to sell your 1911 E100 Bishop & Co. PCL .