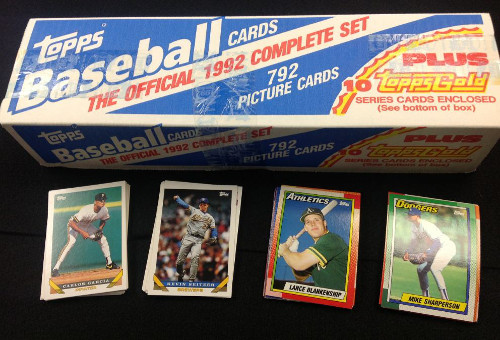 Baseball cards from the 1990s show the hobby at its zenith. Upper Deck, who issued their first set in 1989, dominated the hobby's attention with beautiful cards and innovative products. Competition intensified between companies such as: Topps, Upper Deck, Donruss, Fleer & Score, who all produced multiple sets every year. The result was hundreds of different sets and a confused collecting community, who was not quite sure what to collect.
Today, the baseball cards from 1990s are inexpensive to buy. With only Topps remaining as a viable baseball card manufacturer, they are the brand most collected. Upper Deck revolutionized the hobby with their beautiful cards and innovative products.
The 1990s Baseball Card types that we sell the most of are: Topps, Topps Traded, Topps Heritage, and Upper Deck.
By
Dean Hanley
Please click on the categories below to find the cards you want to add to your collection.
Topps
Upper Deck
Miscellaneous