1961-62 Fleer Basketball Cards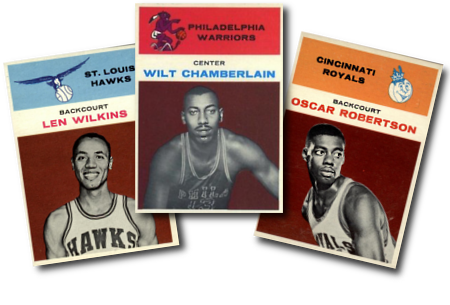 The 1961-62 Fleer Basketball Card Set contains 66 cards and was  the first mainstream basketball card set issued in four years. 1961-62 Fleer is probably the most popular vintage basketball set ever issued, due mainly to its great rookie card crop of superstars, such as: #8 Wilt Chamberlain, #16 Hal Greer, #23 Sam Jones, #36 Oscar Robertson, #43 Jerry West, #44 Lenny Wilkins and #45 Paul Arizin.  
1961-62 Fleer Basketball Set was designed to be "star-packed".  The first two-thirds of the set, cards #1 to #44 are standard cards which containing the player's bio and stats. Of these first 44 cards, 22 of the players are in the Basketball Hall of Fame.  Cards #45 to #66 feature a second card of the most popular players in action shots, and more information about them on the back.  In total, 38 of the 66 cards in the 1961-62 Fleer set contain Hall of Famers.
By Dean Hanley
CLICK HERE if you want to sell your 1961-62 Fleer Basketball Cards.