1957-58 Topps Basketball Cards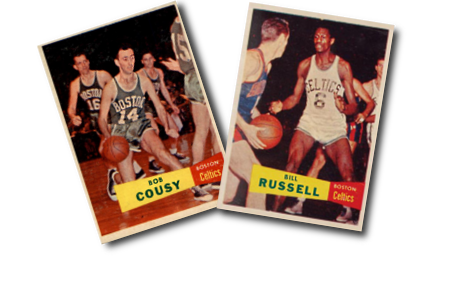 The 1957-58 Topps Basketball Card Set is comprised of 80 standard sized cards.  As the only major basketball set issued between 1948 and 1968, the 1957-58 Topps cards have become a basketball classic.  The 1957-58 Topps basketball card set was released in a single series, with 47 double-printed cards, and a "quadruple" print of #24 Bob Pettit, who was considered the best player in the game.  There are 22 players in the set that became members of the Basketball Hall-of-Fame.
The majority of the players make their first appearance on a card and are considered rookies.  The most notable of the 1957-58 Topps Rookie cards are: #1 Nat "Sweetwater" Clifton, #17 Bob Cousy, #19 Tom Heinsohn, #24 Bob Pettit and #77 Bill Russell.  Russell's card is the only major star that was not a double printed and is easily the most valuable card in the issue.
Some of the cards in this set are shown with the backs of the cards upside down to allow the statistics to be easily read.
CLICK HERE if you want to sell your 1957-58 Topps Basketball Cards.