1888 N162 Goodwin Champions Baseball Cards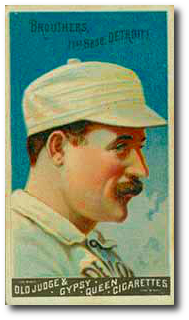 The
1888 N162 Goodwin Champions Baseball Cards set
contains 50 cards measuring 1 1/2" x 2 5/8".  Out of the 50 cards, there are only 8
N162 cards
that are of baseball players.  
Goodwin Champions Card fronts are in full color with player name, position and team along the top, and "Old Judge & Gypsy Queen Cigarettes" across the bottom.  The card backs contain a checklist of the Goodwin Champions cards.
Hall-of-Famers included in this set are: Cap Anson, Dan Brouthers, Tim Keefe and King Kelly.
By Dean Hanley
CLICK HERE if you want to sell your 1888 N162 Goodwin Champions Baseball Cards.