1938-39 W711 Cincinnati Reds Team Issue Baseball Cards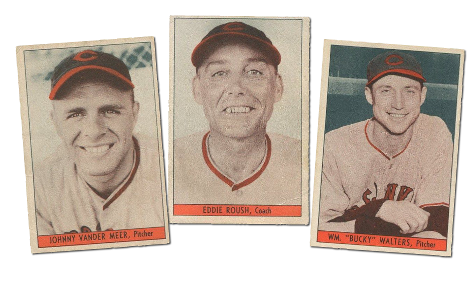 The
1938-39 W711 Cincinnati Reds Team Issue Baseball Card set
contains 35 cards measuring 2 1/8" x 2 5/8".  
W711 Card
fronts contain muted portrait or action shots with the player name and position along the bottom in an orange box.  Card backs contain a short bio on the player in black text.
Notable players included in this issue are: Paul Derringer, Ernie Lombardi, Bill McKechnie, Edd Roush, Johnny Vander Meer and Bucky Walters.
By Dean Hanley
CLICK HERE if you want to sell your 1938-39 W711 Cincinnati Reds Team Issue Baseball Cards.