2013 Topps Football Cards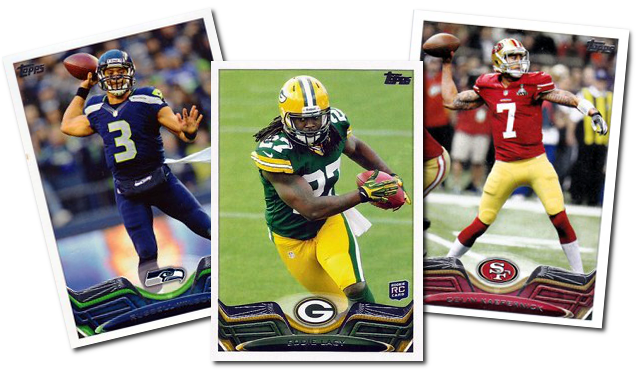 The
2013 Topps Football Card Set
contains 440 cards.  Cards are standard size, with action poses on the fronts and a border on the bottom with team logo and player name.
Some of the stars included in the
2013 Topps Set
are:
 #1 Adrian Peterson, #40 Anquan Boldin, #50 Andrew Luck, #99 J.J. Watt, #100 Tom Brady, #150 Robert Griffin III (RG3), #200 Peyton Manning, #280 Russell Wilson, #300 Aaron Rodgers, #336 Colin Kaepernick and #390 Cam Newton.
Some of the key rookie cards for this issue are: 2013 Topps #43 Mike Glennon, #112 Tavon Austin, #126 Geno Smith, #215 E.J. Manuel, #358 Giovani Bernard, #386 Cordarrelle Patterson and #406 Eddie Lacy.