1887 Four Base Hits Baseball Cards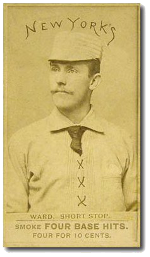 The
1887 Four Base Hits Baseball Card set
is one of the most desired N-Card sets ever produced.  The cards measure 2 1/4" x 3 7/8", with card fronts featuring a large player portrait.  Below the picture is player name and position, as well as the phrase "Smoke Four Base Hits.  Four for 10 Cents."
The Four Base Hits Cards are strikingly similar to the N690 Kalamazoo Bats set, but also resemble the N175 Gypsy Queen set in size and card stock.  
The hall-of-famers from this issue include: Mike "King" Kelly, Buck Ewing, John Clarkson, Mickey Welch and John Montgomery Ward.
CLICK HERE if you want to sell your 1887 Four Base Hits Baseball Cards.