2014 Topps Heritage Baseball Cards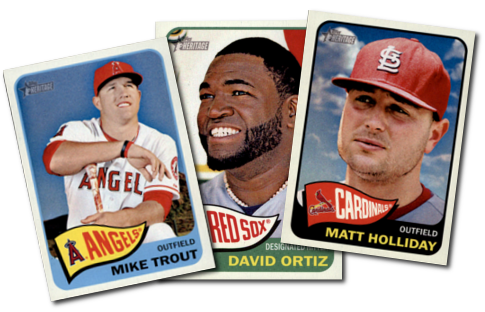 The
2014 Topps Heritage Baseball Card Set
includes 500 cards based on the 1965 Topps set design.  True to its vintage example, the
2014 Heritage
issue features mostly portrait shots of the player.  A lot of images are shown of players without their caps.  The card fronts feature the team name in a pennant (which a lot of collectors will recognize from the
1965 Topps Baseball Set
).  And the backs are done in the familiar light blue, with black text.
Cards 426-500 are short prints.  
The Master Set is more expensive than the Base Set for this series because of the included short print cards. The complete Master Set card #s 1-500 was printed in one series for this year.  Topps issued a High Number series numbered H501 - H600 which featured many rookie cards later that year. The High Number set was only distributed as a sealed factory set and upon initial release had to be ordered directly from Topps.  Each sealed set contained a Real One autographed card.
Due to this distribution, many collectors consider the 2014 Topps Heritage Baseball Cards and High Numbers two different sets.
By Dean Hanley