1963 Bazooka All-Time Greats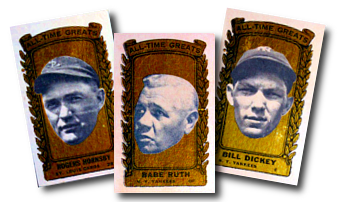 The
1963 Bazooka All-Time Greats Baseball Card Set
feature 41 members of baseball's Hall-of-Fame.  Five of the little cards, which measure approximately 1 9/16" x 2 1/2", were inserted into boxes of Bazooka bubble gum.  This was the first of the Bazooka set of baseball cards that did not have to be cut from the back of the box.
The 1963 Bazooka All-Time Greats cards were issued in two versions: Gold or Silver.  The front of the cards feature a black and white bust of the player, surrounded in either a shiny gold, or silver flat matte background.  The backs of the gold variation cards have a partially yellow background, the backs of the silver variation are all white.
The key cards are: #6 Cy Young, #12 Walter Johnson, #15 Lou Gehrig, #17 Babe Ruth, #32 Rogers Hornsby and #35 Ty Cobb.
CLICK HERE if you want to sell your 1963 Bazooka All-Time Greats cards.