1887 N172 Old Judge Roscoe Coughlin
View all 1887 N172 Old Judge Roscoe Coughlin cards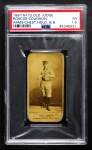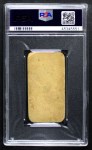 A recently found "One of a Kind", you are looking at the only known 1887 Old Judge (N172) card of Roscoe Coughlin in existence! It is the only N172 card of Coughlin ever graded by PSA.
Born in 1868, William "Roscoe" Coughlin began playing minor league baseball in 1887. This newly discovered N172 card, the only one in existence, pictures Coughlin as a member of the Chicago Maroons of the Western Association, for whom he played in 1888. In 1890, Coughlin was promoted the Chicago Colts, of the National League, and during the 1891, he had a 3-4 record for the New York Giants, after a superb 28-12 record for the Syracuse Stars of the Eastern League. Never to play in the major leagues again, Coughlin's last season in minor league ball was 1897.
The following year, Roscoe served in the Spanish-American War. Although not much is known of the rest of Coughlin's life, he died in an Old Soldiers Home in Chelsea, Massachusetts in 1951.
Serial Number
N172 00 0063
Price
$125,000.00
$100,000.00 after 20% discount