1910-19 T213 Coupon Baseball Cards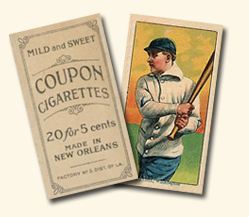 The 1910-19 T213 Coupon Cigarettes baseball card set consists of 3 different subsets of cards that measure 1½" by 2-5/8". The 68 Type 1 cards can be identified by the phrase "Base Ball Series" and "(Mild)" on the backs and brown ink on the front. Type 2, which is the largest set at 188 cards, has the phrase "Made in New Orleans" on the backs" and the name on the front is in blue ink. Type 3, which includes 70 cards, has the distinctive phrase "We have in this Baseball Series pictures of 70 leading players" on the backs.

Some of the key Hall-of-Famers featured in this issue include the: T213 Ty Cobb, Christy Mathewson, Walter Johnson and Nap Lajoie.
By Dean Hanley
CLICK HERE if you want to sell your 1910-19 T213 Coupon Baseball Cards.