1910-11 T3 Turkey Reds Baseball Cards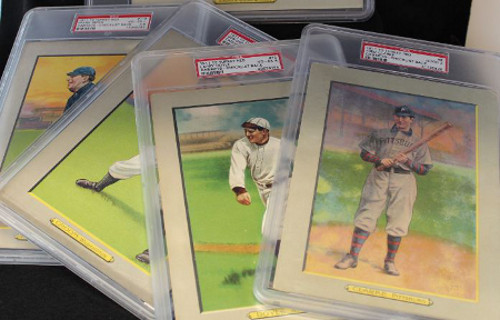 The 1910-11 T3 Turkey Reds baseball card set was produced by the American Tobacco Company. The complete set consists of 100 cards and was issued to promote the popular Turkey Red cigarette brand. The cards large "cabinet" size is their most distinguished characteristic, which is coupled with full color lithography and thick grey border. The player's name appears on the front of the card in a small yellow panel placed in the border of the card. The panel includes the player's last name, team and league designation.
The Turkey Red set includes 6 different variations to the back of the card, four of which are checklists, a blank-back variation and a variation that includes an advertisement for Turkey Red cigarettes. The Turkey Red ad had a large picture of a package of cigarettes on it.
Dean Hanley is an expert in Pre-War (before World War II) baseball cards and continues to add vintage baseball cards to the Dean's Cards inventory. Dean literally wrote the book on Pre-War baseball cards, and you can find his best seller on Amazon.com: Before There Was Bubble Gum: Our Favorite Pre-Worls War I Baseball Cards.
Please click here to learn more about the 1910-11 T3 Turkey Reds baseball card set
By Dean Hanley
Click here if you want to sell your 1910-11 T3 Turkey Reds .