1910 T212-2 Obak Baseball Cards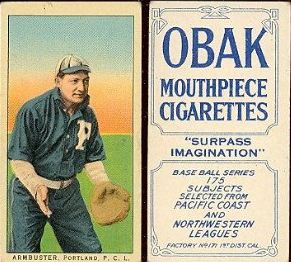 The 1910 T212-2 Obak baseball card set was produced in 1910 as a promotion for Obak cigarettes. All cards feature members of Pacific Coast Leage and Northwest League teams. The T212 set is divided into three subsets and the T212-2 set includes 35 back variations. 
The T212-2 Card set contains 175 cards in the standard tobacco card size of 1 1/2" x 2 5/8".  The backs are printed in standard blue text, not and not the Old English Style Script that was used in the T212-1 set.  Backs are known to say either "150 subjects" or "175 subjects".
The most notable cards in this set are the T212: Ping Bodie, Ossie Vitt, Jacques Fournier and Spider Baum cards.
By Dean Hanley
CLICK HERE if you want to sell your 1910 T212-2 Obak Baseball Cards.