1888 N28 Allen & Ginter Baseball Cards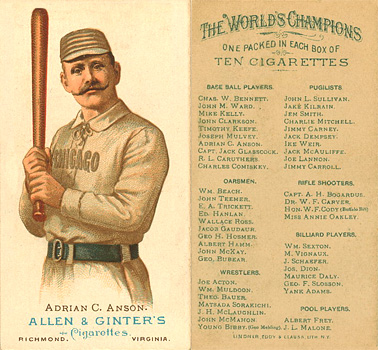 The
1888 N28 Allen & Ginter Baseball Card Set
contains 50 cards measuring approximately 1 3/4" x 2 3/4".  The
N28 set
is often referred to as the "World's Champions" set, since it was the first issue to include that phrase in large text on the back of the cards.
In total, the 1888 Allen & Ginter set is comprised of 10 baseball players and 40 other athletes.  Some of the hall-of-famers or notable athletes from this issue are the: 1888 N28 Cap Anson, King Kelly, Charles Comiskey, Annie Oakley and Buffalo Bill.
By Dean Hanley
CLICK HERE if you want to sell your 1888 N28 Allen & Ginter Baseball Cards.