2014 Topps Heritage Baseball Cards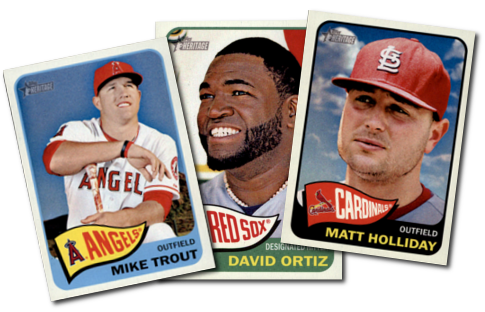 The
2014 Topps Heritage Baseball Card Set
includes 500 cards based on the 1965 Topps set design.  True to its vintage example, the
2014 Heritage
issue features mostly portrait shots of the player.  A lot of images are shown of players without their caps.
The card fronts feature the team name in a pennant (which a lot of collectors will recognize from the 1965 Topps Baseball Set).  And the backs are done in the familiar light blue, with black text.
Card #'s 426-500 have been short printed again this year.  Within the 2014 Heritage short prints, there seems to be a higher than average number of stars and notable players.  This has drove the price of that group of cards a little higher than in past years.
Some of the key rookie cards for this issue include:  2014 Topps Heritage Xander Bogaerts, Kolten Wong, Nick Castellanos, Billy Hamilton, Kevin Siegrist, Travis d'Arnaud, James Paxton and Taijuan Walker.
The Master Set is more expensive than the Base Set for this series because of the included short print cards.
By Dean Hanley