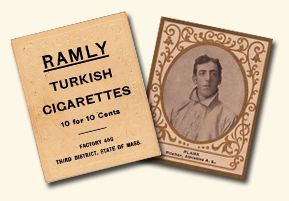 The 1909 Ramly (T204) baseball card set consists of 121 unnumbered cards, which were inserted inside packs of T.T.T. and Ramly Turkish Cigarettes.  With their decorative embossed fronts, original images, and unique card size of 2" by 2½", the 1909 Ramly T204 cards stand out from the other baseball card sets of the era. 
The 1909 Ramly cards can be found with 3 possible backs.  They can be blank, or feature advertisements for either the Ramly or T.T.T. brands of Turkish Cigarettes.  There are 6 cards in the T204 set with the player's images inside of a square frame, in addition to his card with the standard oval frame.  The T204 Ramly cards containing either the T.T.T. ad, or the square frame, are less common and sell for a premium.
The most sought after player in the 1909 Ramly T204 set is Walter Johnson, which some consider to be his rookie card, as his previous cards feature him on either postcards or cabinet cards.
Click here to read Dean's blog on the T204 Ramly baseball cards!