1888-89 N173 Old Judge Cabinets Baseball Cards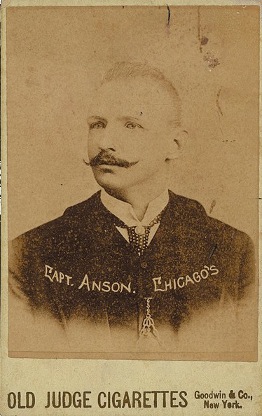 The
1888-89 N173 Old Judge Cabinets baseball card set
consists of at least 400 cabinet cards that measure 4¼" by 6½" . The
N173 Old Judge cards
have many of the same images as the Old Judge N172 cards but on a larger format.  Subjects are pictured in portrait or action shot format, and there are numerous variations depending on how the photo was cropped.
The N173 cabinets were printed by the E. Goodwin & Co. and have a blank cardboard back.  The oversized cards were redeemed when a certain number of certificates from each pack of Old Judge and Dogs Head cigarettes were mailed back to the E. Goodwin Company.  Cabinets with the "Dogs Head" fronts are rarer and command a premium over the "Old Judge Cigarettes" version.
Some of the Hall-of-Famers included in this issue are: N173 Old Judge Cap Anson, King Kelly and Mickey Welch.
By Dean Hanley
CLICK HERE if you want to sell your 1888-89 N173 Old Judge Cabinets Baseball Cards.