1910-11 T3 Turkey Red Baseball Cards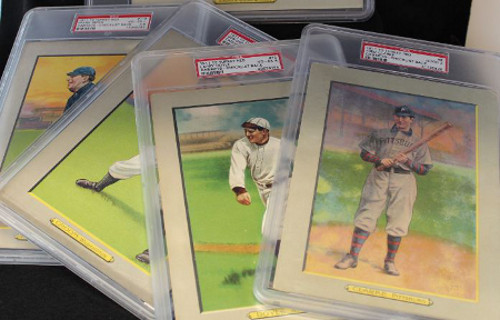 The Turkey Red Baseball Cabinet Card Set, or T3, was produced in 1910 and 1911 by the American Tobacco Co. to promote the Turkey Red cigarette brand.  The Turkey Red set consists of 100 cards, or cabinets, measure a whopping 5 3/4" x 8"and contain a full color lithograph, surrounded by a thick grey border.  A yellow tag includes the player's last name, team and league designation.  
The T3 Turkey Red cabinets featuring baseball players are numbered from #1 to #50 and #77 to #126.  Cards #51 to #76 feature boxers, and have the ACC# of T9. The Turkey Red cards have a possible 6 different variations on the back, four different checklists, a blank-back, an  Turkey Red ad.  

By Dean Hanley
CLICK HERE if you want to sell your 1910-11 T3 Turkey Red Baseball Cards.