1909-11 T206 White Borders with Semi-Scarce Backs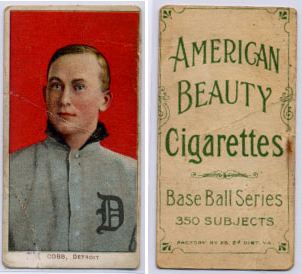 The
T206 White Border cards were issued with 16 different cigarette and loose tobacco brands, owned by the American Tobacco Company, from 1909 to 1911. The most popular brands were Piedmont & Sweet Caporal, whose ads adorn over 80% of the T206 cards.  These T206 Common Backs offer the most affordable versions of a particular card.
This category features the T206 cards with Semi-Scarce Backs, that usually make up somewhere between 2% to 7% of a card's overall population.  While the ads vary on a card-by-card basis, the most typical T206 Semi-Scarce Backs are Polar Bear, Sovereign & Old Mill.  Together, these three cigarette brands are on about 15% of the 1909-11 White Border T206 cards.  One exception, are the players from the Southern Leagues, whose harder-to-find T206 cards have ads for Hindu Brown.
For view the T206 with very few cards in circulation, please see
 our T206 Rare Backs.
CLICK HERE if you want to sell your 1909-11 T206 White Borders with Semi-Scarce Backs cards.