1909-11 T206 Scarce Back Baseball Cards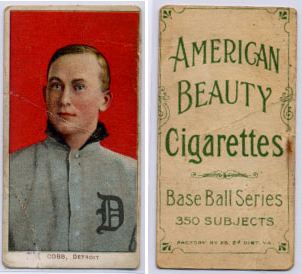 The 1909-11 T206 baseball card set is often considered to be the most famous Pre-War set in existence, mainly because of the Honus Wagner card in this set. The T206 cards were produced from 1909 to 1911, by the American Tobacco Company. These tiny cards were included in packs of cigarettes or loose tobacco for many brands as an incentive to purchase the tobacco.  There are 74 Hall of Famer players included in the T206 set.  
The T206 Baseball Card Set consists of 527 cards.  The "Big Four" or most expensive T206 cards are: Wagner, Plank, Magie and Doyle/ NY NL. Over 100 of the T206 cards picture minor league players.   T206 cards with scarce backs are known to carry a premium, due to being found in lesser quantities than those considered to be "common backs."  Some of the T206 rare backs include: El Principe de Gales, Tolstoi, American Beauty, Hindu, Carolina Brights, Broad Leaf, Lenox, Drum and Uzit backs.
By Dean Hanley
CLICK HERE if you want to sell your 1909-11 T206 Scarce Back Baseball Cards.