1921 E121-80 American Caramel Baseball Cards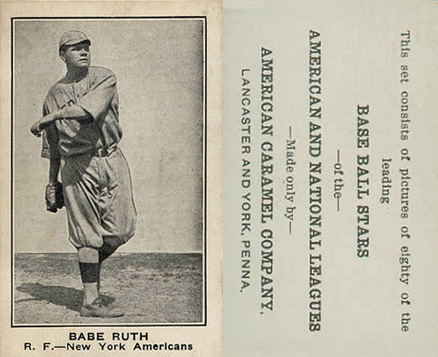 The
1921 E121-80 American Careamel Baseball Card Set
contains 135 cards measuring 2" x 3 1/2".  The front of the cards feature a black & white image of the players, with name, position, and team along the bottom.
The backs have the phrase "Base Ball Stars of the American and National Leagues Made only by American Caramel Company, Lancaster and York, Penna."  The way to tell whether an E121 card is from the 80 series or 120 series is to look on the back at the top line.  If it is an E121-80, this line will read "This set consists of pictures of eighty of the leading", otherwise the E121-120's read "This set consists of pictures of 120 of the leading."
There are many known variations for cards in this issue.  Most of these have to do with errors due to misspellings of player names, positions, etc.
Notable Hall-of-Famers included in this issue are: E121-80 Ty Cobb, Eddie Collins, Grover Alexander, Johnny Evers, Walter Johnson, Hughie Jennings, John McGraw, Babe Ruth, Tris Speaker and Casey Stengel.
By Dean Hanley
CLICK HERE if you want to sell your 1921 E121-80 American Caramel Baseball Cards.