1889 N29 Allen & Ginter World's Champions Cards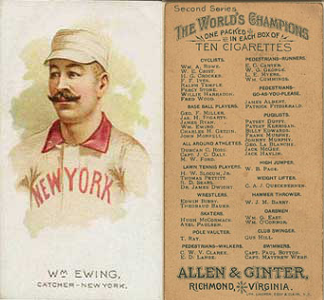 The
1889 N29 Allen & Ginter World's Champions Card Set
contains 50 cards measuring 1 3/4" x 2 3/4".  The main way to tell the
N29 cards
from their 1888 predecessor is that this set doesn't contain the "Allen & Ginter Cigarettes Richmond, Virginia" across the bottom front of the card.
Hall-of-Famer Buck Ewing is the only notable player in this issue.  This set has the same six baseball players as the N43 set: Buck Ewing, Joseph Fogarty, Charlie Getzien, George Miller, John Morrill, and Jimmy Ryan.
By Dean Hanley
CLICK HERE if you want to sell your 1889 N29 Allen & Ginter World's Champions Cards.