1895 N300 Mayo's Cut Plug Baseball Cards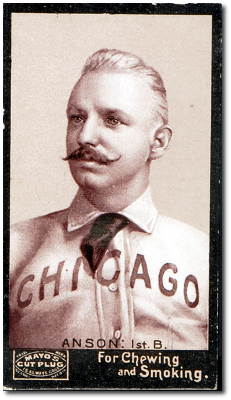 The
1895 N300 Mayo's Cut Plug Baseball Card Set
contains 48 cards measuring 2 7/8" x 1 5/8".  
Mayo's Cut Plug Baseball cards
feature a sepia player portrait on the front of the card, framed with a black border.  Player name sits on top of the bottom of the frame, and an advertisement "For Chewing and Smoking" appears on the bottom of the card.  
N300 cards
all have blank black backs.
Some of the key hall-of-famers included in this set are:  Cap Anson, Dan Brouthers, Ed Delahanty, Buck Ewing, Kid Nichols, Amos Rusie and John Montgomery Ward.
By Dean Hanley
CLICK HERE if you want to sell your 1895 N300 Mayo's Cut Plug Baseball Cards.
Baltimore on Shirt HALL-OF-FAME VARIATION
Qty