2014 Topps Football Cards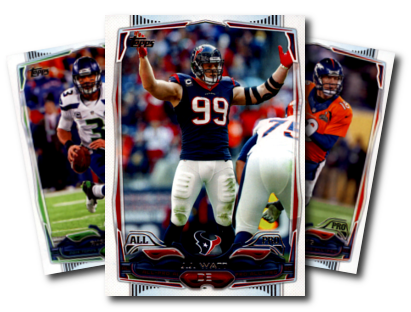 The
2014 Topps Football Card Set
contains 440 cards.  Cards are standard size, with action poses on the fronts surrounded by a white border.  The bottom of the cards contain team logo, position and player name.
Some of the stars included in the
2014 Topps Set
are:
#32 Russell Wilson, #33 Peyton Manning, #51 Adrian Peterson, #52 Tom Brady, #53 Drew Brees, #67 J.J. Watt, #69 Andrew Luck, #141 Colin Kaepernick and #172 Aaron Rodgers.
Some of the key rookie cards for this issue are: 2014 Topps #353 Tajh Boyd, #356 Jadeveon Clowney, #367 Teddy Bridgewater, #374 Blake Bortles, #429 Johnny Manziel and #431 Marqise Lee.