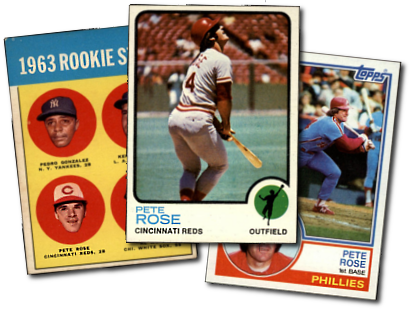 Pete Rose baseball cards continue to be among the most popular baseball cards sold at Dean's Cards, and the 1963 Topps Pete Rose rookie card continues to grow in value. Pete Rose holds the all-time hits record with 4,256 hits, eclipsing Ty Cobb's previous record.
Rose was suspended for life from baseball in 1989 for gambling on baseball as the Cincinnati Reds manager, but the demand for baseball cards from his long playing career remains high.
The search below shows every Pete Rose baseball card now available -- including our exclusive Team Starter Sets and Team Sets -- along with prices and scans of the ACTUAL CARDS. At Dean's Cards, "What you see is what you get!"
By Dean Hanley